It was another heavy cobbled climb out of Otavalo to the lagunas. But after finding a rythem, it's ¨not too bad¨, which was the only reply i could master when a motorcyclist stopped and mentioned that ¨this looks brutal¨.  I still felt i needed to climb higher to get a better view once i reached the big lagoon, and started the ascent of the 2fuya fuya" on foot. By then, i felt the climb in my legs as well as the altitude over 4000 meters, making progress rather slow. But everytime i looked around, i felt this walk was too good to be cut short.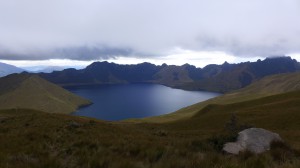 There is an area to camp directly at the waterside, but it is very close to the road and the wind wasn't that inviting either. So i circled around the lagoon to its southern end, where i found a good spot, at least a little sheltered from the wind and with excellent views in the morning.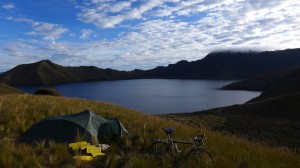 The change of the light was beautiful as the sun made its way over the mountain ridge on the eastern shore.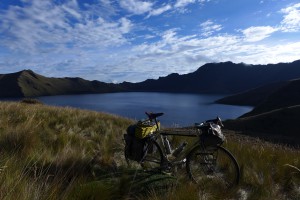 The road continued around the small "laguna negra" and with a short but heavy climb afterwards, which saw me pushing my bicycle for the first time since Guatemala. It was with a smile that i was cycling some part of it, while a four-wheel drive needed some assistance to continue. A last push and around another bend, the snow-capped peak of Cayambe came into view.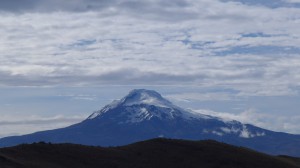 After a long descent i hit asphalt again at Tabacundo and started the last fifty kilometers towards Quito.