Stopping in Mompos for a rest day, i soon moved on as the heat was too much, even for just relaxing in the shade. I followed the Rio Magdalena for a while, before i took a turn off to Ocaña and the start of the Andes. It was a heavy and rocky climb to the lovely little town of El Carmen. After i pushed the bicycle up the steep streets, cozy old houses with terraces in between, which offered great views over the valley, were the reward. On the look-out for a place to sleep i was directed to the tienda of Chepe.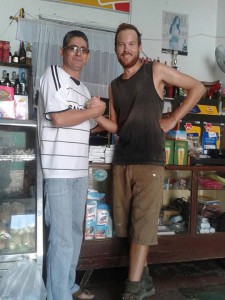 The room turned out to be rather a house with a courtyard and one of the mentioned terraces just in front of the door. I stayed an extra day, just content to be in the mountains, away from the big streets and the heat of the lowlands. I also made a promise to two chicos with guitars, whom i met the previous day when i entered the pueblo. I had played a couple of songs and one of them then wanted me to teach him one of these. So we met the next morning and got to work.
Here's the goodbye the next morning with Chepe and his family…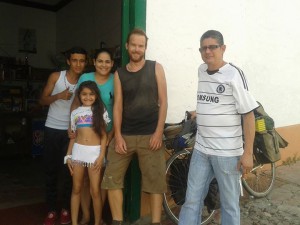 who made me feel so welcome.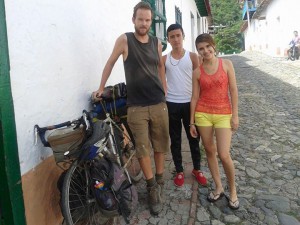 After Ocaña i made a side trip to Playa de Belen, where a unique geological site can be visited. Sometime after the turn-off, a car stopped next to me and i was invited by Willy and his family to stay over at their finca.
First i visited ¨los estoraques¨, a place which reminded me on Cappadocia in Turkey. Still partly privat owned, the park offers no tours through the entire area, at least not by any official guide. But i met Rene, a local guy who knows the area very well and would like to work there, once the dispute is settled between the government and land owners. He offered me a tour and, as he was interested in study options abroad, i guess we both learned something that afternoon. Later at the finca, food was served the minute i arrived. We then took a walk through the surrounding hills before i pitched my tent in the garden. The next morning started with an extensive breakfast and a photoshoot.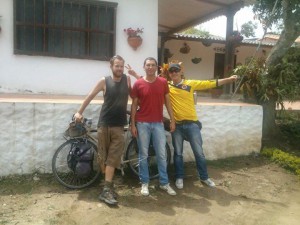 Here with Darlington who works at an environmental organisation and we spent quite some time talking about his work and related topics.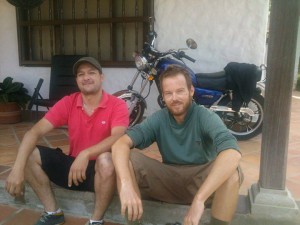 It is every time amazing what can happen, once you leave the busy streets and head to the inner country, with its small villages and wonderful people. It just takes longer to make progress concerning kilometers. But these meetings and experiences are just too good to compromise.
There was no day without a substantial climb or downhill part. From El Tarra at the bottom of a valley i first had to climb half of the day and was a little annoyed at my otherwise fine map, as the distance shown was off by fifty kilometers. Luckily fifty kilometers of almost uninterrupted downhill to Sardinata. From then on my way lead mostly on dirt roads up and down the mountains. In Salazar i met Nacho as i was just about to enter a hospedaje, and he invited me to stay at his house. The following day we went to some waterfalls, hidden between stony cliffs, and spent a good while on his balcony in the evening, enjoying good food and music blasting from the stereo. After Cucutilla, another climb brought me back to the main road close to Pamplona, where i watched the soccer game of Columbia and Brasil.
The climbing continued towards Presidente, but then my shift lever broke and despite some attemps to fix it, it wouldn't work anymore. I had received news that a friend of mine would visit his family in Colombia from Europe and so i sent him an e-mail, asking him to bring that part over for me. The next day i set out with two gears left, as i could only shift between the two chainrings in the front. It wasn't half as bad as i imagined and i could continue to enjoy this wonderful part of the country and only changed my plans slightly. After some more climbing, i reached the Páramo, a very unique landscape between tree line and snow line, typical for the northern Andes region. One flower, the frailejón, is dominant in this region and it looks just a little different from any place i visited so far. Over 3500 meters in altitude, for the first time i was aware i had to buy some gloves and warmer cloth to cycle. I postponed that after dropping 2000 meters into the Cañon del Chicamocha, where things were considerable hotter. On the photos on wikipedia, you can see how the road winds its way up and down the mountain sides. It took me an afternoon and the next morning to climb from the bottom of the canyon to the pass. But with such a scenery, it is easy to forget about a little hardship. A night's stay in Belen and a downhill to Duitama ends this adventure. From then on, it was mostly flat and the roads rather busy towards Villa de leyva, where i will have some rest days, as i only had four in the last month. I will meet Felipe, the friend i was visiting in Paris after the last trip coming from New Zealand, and get that shift-lever on the bicycle fixed.