It started to rain once we entered the bay of Cartagena. It was refreshing and we felt like true sailors holding on to the ropes while facing the wind and the rain. One of the first things i did, once we reached land, was to get rid of the effect the saltwater had on the bicycle. After cycling into town and checking in at the Tortuga Hostel, i went for a walk around the old town with a girl from Buenos Aires. The historic center with its restored colonial houses and balconies make for a nice setting, as is the old city wall especially during sunset. I stayed four days to get a feel for the new country, its food, its currency, the heat and the idea of starting a new chapter in a new continent. Meeting again with Paul the next day called for a round of drinks. I still had a bottle of flor de caña rum with me that survived the crossing, and we met at paul´s hostel with Paola from Mexico and Anna from Cali to see to it that i don't have to lug that thing around any longer. Next door was an ice factory which helped to keep the drinks cooled and we spent a lovely evening without being troubled by seasickness or fatigue by a long day's ride. Cartagena is one of these places you can lose track of time and easily while away several weeks. But the andes were waiting and so we set out, at least the first two days riding together as we had different plans for the following weeks. On the second day we watched the first match of the equipo de Colombia against Greece.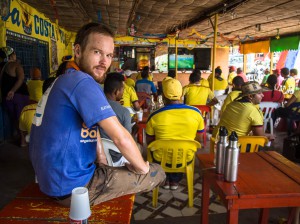 No sooner was the game over than thousands of people took to their motos and a convoy in the predominant colour yellow was rushing by.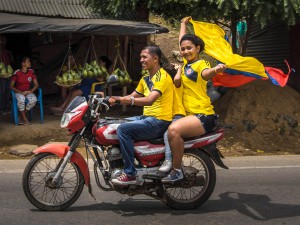 This was going on for far too long for it to wait to end and so we continued. Soon we were encircled in that same convoy as it returned to town, dodging flags and countering the occasional hit on the handlebars. Once we arrived in the town of El Carmen de Bolivar our ways parted another time as Paul wanted to get to Medellin and make some progress south, while i was tempted by a route through Norte de Santander and Boyaca.
Since the camera is gone, there is still a lack of photos on the blog. But sometimes i can put the photos from other people here, like this time from Paul. You can follow his journey on his well written blog and look at some stunning photos from his trip from the very north of Alaska here.