Once in Zacatecoluca, i met Paul, a cyclist from England, who started his tour in Alaska. We were going in the same direction and thus started after a hearty breakfast towards Honduras. It was a long day of cycling and still there was one more climb ahead of us towards the coast, when pick-up truck passed us and a guy presented himself together with an invitation to camp at his place. José cycled from Canada, where he lived in Quebec for several years, back to his native El Salvador on his rather odd bicycle and is known to fish tired cyclist off the road and invite them to stay at his house. We arrived at his village on the brink of a holiday and paid a short visit to the feria to get a bite to eat. But before we had our proper dinner, we had to help him visit some farmers in the surrounding villages, from whom he buys corn, and helped him to load the bags on the truck after they were weighed. It took a while but the following pupusa dinner left everybody happy.
From his time of hosting cyclist, José has quite some stories to tell and it was a very pleasant and entertaining time we spent with him. In the morning we took a goodbye foto…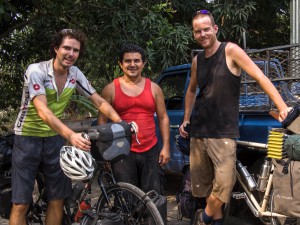 … and wrote in his guestbook which was already full of lovely comments.