after returning to christchurch, i had three days left before my flight back to europe.  three days to sort out my stuff, see a couple of friends and prepare myself for the nearing end of the trip. i had a couple of beers with phil whom i first met while working in hillston back in oz and then again in melbourne. he also offered me a ride to the airport with his newly purchased car which hopefully holds up well during his trip around new zealand. this time i had a bit of time at the airport, purchased a bikebox for the first time and had to take the bike apart to fit it in.
after flying deluxe from australia, the fall to my economy class seat was deep and so it took me by surprise to have to pay for water again after even red wine and dessert were included on my last flight. and it seemed so perfect until then that i had handed over my last dollars for the bikebox to the lady at the luggage department. well, refreshments had to wait until kuala lumpur where i had a comfortable two hour wait before boarding the plane to paris.
an airport is not a good place to remember a place by. so i say goodbye with a picture from the days cycling up the west coast of the south island.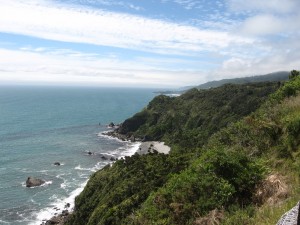 a great last part of the grand tour. see you back in europe!