on the second day in sydney i went to the office of peda pod, a velo cab service which got its idea and the first bikes from berlin. thanks to alex for pointing me in that direction. i had to pass a small exam and afterwards drive once around the block which more or less completed the small training. the next day i went to the city with tonka and stefan which was supposed to be the big training but after the first customers arrived, there was no time for instructions. a map of the cbd had to do for now. there were usually enough breaks in between customers to catch one's breath and have a chat while waiting at the circular quay.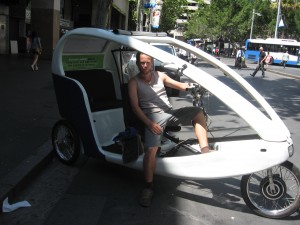 just across the street we could watch people getting out of their comfort zone for a charity project to get children off the street.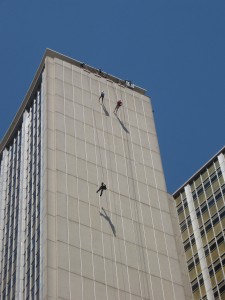 tonka was keen to give it a go but 1500 dollars seemed a bit dear for someone who is 'only' a cab driver. on the weekends there are enough customers but during the week it was hard to make some money in addition to just cover the costs for accommodation and food.
on the night from saturday to sunday we were booked by a couple for their wedding. we should pick up the newlyweds and their closest relatives at midnight from the opera house with a special decorated bike. our fleet in front of the opera.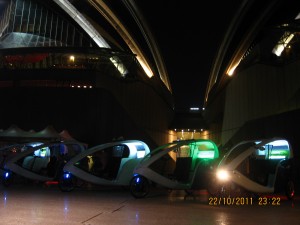 we had to wait a little longer for the party to end but with this view of the harbour bridge that didn't matter too much.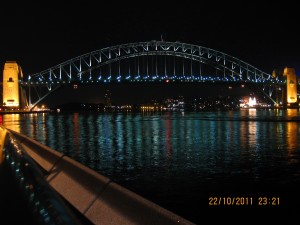 i was driving the parents of the bride. the father had a tower of presents while the mother was balancing a bouquet of flowers on her lap during the short ride to their hotel. the missing space to store luggage and the weight of the bikes itself might be the major drawbacks of the velo-cab. the next generation which is in production saves one third of the weight which will help to make this sustainable transport more attractive. and maybe someone comes up with a nice roof rack.