after a planned project to built a road through the richmond gap connecting queensland with new south wales was cancelled by the government, the local lions clubs (thus the name 'lions road') of this area got together and built it as a community development project. lots of volunteer work and fund raising made it possible to start with this project… and there is still a donation box at the border to help pay for the maintenance.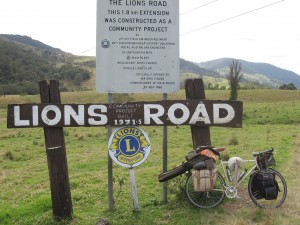 since this is a blog, or at least it started as such, about bicycle touring, i noticed a lack of pictures about cycling itself. mostly i'm just too lazy to get off the bike or make photos of myself. but i still do  a fair bit of cycling in between those other photographs. so i got over my usual lazyness. here during one of  the splash crossings on my way into new south wales.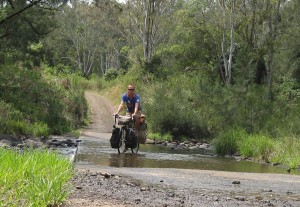 the good thing about travelling a bit further inland is the camping situation. most of the time nobody minds someone pitching a tent for a night and there are still campsites which offer affordable camping for solo travellers. plus people react very friendly to travellers as these areas are far from overcrowded.