leaving jakarta with the cycle, i only made it to bogor. java traffic lived up to its reputation and i decided to take the overnight train to surabaya instead. it took some time to get the cycle on board of that train as they never had that before and were rather puzzled at first. i arrived early in the morning, but as i slept rather well during the trip, i decided to start cycling immediately. after finding the traffic south of the city no less menacing, i took a left turn towards the bromo tengger semeru national park and traded heavy traffic against nice scenery with the price of a steady uphill route.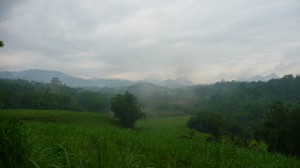 some kilometers before reaching nongkojajar is a nice tourist information which provided me with a map of the area, fresh coffee and were escorting me to a guest house nearby. no one could tell me how far it is to penenjakan, one of the best view points to watch the sunrise over mt. bromo. so i got up at one in the morning and was hoping to make the way which was described to me as a two hours drive by scooter. i didn't even make it half way. i got a little lost and ended up at one of the main routes towards mt. bromo. no more nice tourist information, just some crooks using it as a disguise and add to the double pricing another extra for themselves. after looking around in wonokitri, i ended up with a family who was so nice that i didn't mind paying a little more. i got dinner, tea and coffee, when asking for a banana i got ten and in the morning some food for the way and the second attempt. i got up at two o'clock and despite some heavy uphill parts and the passing tourist jeeps, which made me jump off the bike on that narrow road, i made it 10 minutes before sunrise.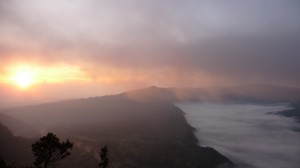 i felt quite battered after the climb but forgot about that as the sun was rising above that ocean of clouds beneath. later i met farsaid, another cyclist who was there with a team to make a documentary about the flora and fauna and the people selling flowers as an offering. he is the founder of bikepacker indonesia, an organization offering information about cycling and long distance travel in indonesia. he took that photo on the descent with the fuming bromo in the background.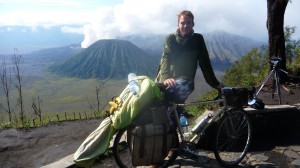 the road down into the valley was hazardous, steep with holes the size of my wheels. but i wanted to see that volcano up close… the last kilometer had to be done by foot and some stairs led to the crater. you can see the smoke for miles but only on the last steps, i felt the activity of the volcano like a monstrous idling machine. the ground is slightly vibrating and rumbling. just enough to get a hint on what might happen if these forces are let loose.
after that visit i had to cross an area with black sand.  i met a group of mountain bikers and even they were pushing their bikes for some parts. soon i found out that the ground was more suitable for riding away from the sand road. but i decided against crossing the sea of sand which stretches towards the south. for me after some time the vegetation came back but also the climbing began again. once up, i was rewarded with a wonderful view over that valley i just cycled through which is surrounding mount bromo.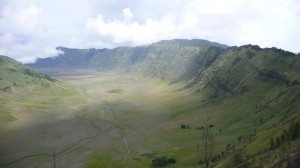 from there it was going mostly downhill through foggy landscapes and very rainy rain forest.