malacca became UNESCO world heritage site in 2008 along with georgetown of penang. with a long colonial history, first the portuguese then the dutch, the city has many buildings left from these days in the historic centre. the city draws its charms from that colonial history combined with the influence of the peranakan, a term mostly used for the chinese immigrants during the colonial era along the strait of malacca.
the st. pauls church on the hill bearing the same name.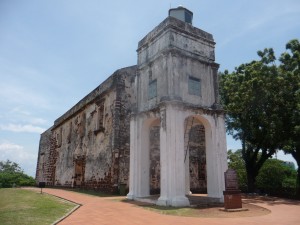 the dutch square with christ church and the stadthuys is the central place of the old city.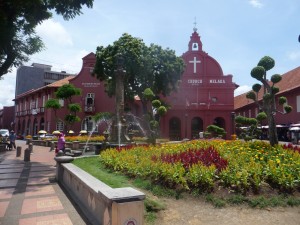 over two hundred bicycle taxis are rolling through these streets. most of them equipped with a sound system which would fill a stadium with sound. because of the tough competition, the drivers compete for the flashiest vehicle in town.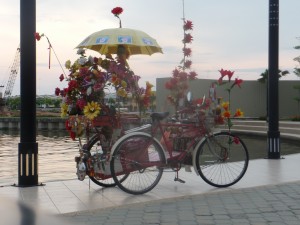 i had a recommendation for a guesthouse run by a bunch of nice guys. with sometimes unconventional methods of reaching their goal.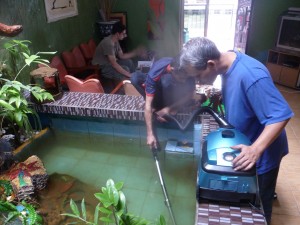 if you are wondering what these two gentleman are doing, they are trying to clean the pool with that vacuum cleaner. the fish were caught from the canal which you may be able to see through the back door.
sitting at this canal is especially nice in the evening hours or at night.
these were really lazy days. sightseeing on the first day, the rest of the time was spent with, well, it was spent eventually. i decided to skip singapore and bought a ferry ticket directly to sumatra.