just across the strait of malacca lies dumai, the port on the indonesian side. with the fast ferry the crossing takes just over two hours. i applied for a visa on arrival as i could not apply for a visa up front without a ticket out of the country.
i had a bad time at the immigration office ending with the officer in charge threatening me to send me back to malaysia as i refused to pay more than the us dollar equivalent of the visa fee in rupiah, which turned out to be a 20 percent surcharge. i got the visa eventually but felt quite battered after the argument. i didn't had such trouble with the immigration procedure since i don't know when. a new country is always challenging and the last thing you need is such a mess as a welcome party. my plans to go on cycling where soon put to a test as a guy on the exit reminded me of mr. muchsin's english school from which i heard over warmshowers, a hospitality club for cyclists. it's a private school which invites foreigners to talk to the students. in return mr. muchsin offer those travellers a place to stay. i decided to have a look and had a pleasantly different welcome there.
i talked with four classes. it was challenging every time to get their attention, to get a feel for their skills, to speak slowly and to keep them entertained. i was too busy answering their questions to think about getting my camera, so just a photo of the empty classroom: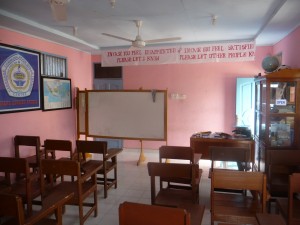 it felt good to stand in front of the students. the board helped a lot to guide through the lessons and the pen to hold on to something. or to do a supportive drawing.  every class was different from another as were the students within. some where just there because their parents wanted them to learn english. they mostly occupied the last row and, like back in my days in school, there is an agreement that the teacher does not bother them and in return they don't bother everyone else. but the majority was encouraged enough to get the class going….
mr. muchsin started this school 20 years ago to improve the english skills of the people, as it is not widely spoken in indonesia. from time to time he spices up his lessons with excursions into politics and is trying to raise social awareness among his students.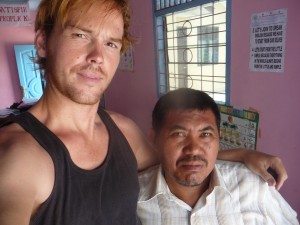 one of his students took me around town and helped me to find a good map of sumatra and some fine food. there is a lovely vegetarian restaurant not far from the school, offering chinese cuisine and for cyclists i can recommend martabak. something like a thick pancake filled with coconut, peanut or chocolate. mmh, maybe not just for cyclists…