I had just started cycling the last 60km towards songkhla as a shout from behind woke me finally up. it was adam from australia, cycling since february from england towards his homeland.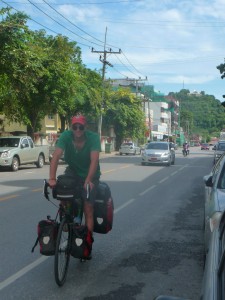 we cycled together into songkhla and after lunch decided to call it a day. after checking into one of the guesthouses, we went looking for an internet cafe which we fled after doing the most necessary because of a bunch of screaming kids which couldn't be silenced. after getting some goodies from the night market, we ended up for a couple of beers at a restaurant for dinner and shared some stories about our trips. on the next day our ways already parted again as i had to wait for the letter and adam was on a tight schedule as he wanted to be home by november for a mountain bike race.
in the morning we went for breakfast at one of the upper class hotels, which had a huge buffet. we turned to the countless bowl and plates extensively until everything was cleared up by the staff, which we reluctantly excepted as a sign to get out.
i stayed in songkhla, as i wanted to use the waiting period to apply for the visa for indonesia. i could get one on arrival, but only for a month and not extendable. when i arrived at the consulate i was told that only thai residents can do this here. with nothing left to do in town, i left the next day to hat yai.
big streets, big traffic, big weariness. i stopped at a bicycle store and asked for the main post office. a guy volunteered to guide me there on his motorcycle and invited me for lunch after i collected my mail. his name is dumree and, an avid cyclists himself, is dreaming about a ride around thailand. but as his 2 daughters are still living with him and thus has to wait some years to do so, he might switch to his motorbike rather than doing it on a bicycle.
in the afternoon we went to the lake. after sitting on its shore for a while, we soon were caught in heavy rain which we sat out in one of the restaurants that are built on wooden stakes into the lake.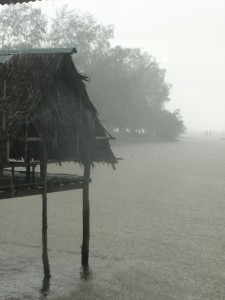 we talked about cycling and the tense situation in the south of thailand, as some muslim citizens, after coming back from their education in arabia, bring with them radical ideas and violence.
he invited me to stay the night at his place just outside hat yai. after returning to his home, the garden bungalow was prepared for the night.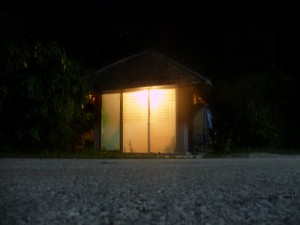 he woke me up early in the morning and asked me to join him on his daily ride. but i was too tired to go galopping up the mountains at 6 o'clock in the morning.
my man dumree after his morning ride and me finally awake and ready to cycle.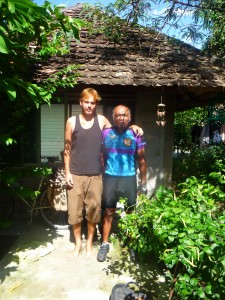 thank you dumree and family for the hospitality!!
i was taking some back roads and got a little lost. but with local support was soon on my way to satun.