a recommendation from caro and tobi, the smile guesthouse in krabi is the perfect guesthouse. clean, friendly and cheap. the simple but ultra comfortable rooms felt like home soon after i moved in and spread some of my stuff around. it reminded me so much on flatsharing rooms i remember from berlin. plain and yet stylish.
the roof terrace is the perfect place to start the day.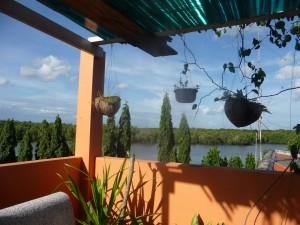 if you turn around you can see ben and margo from scottland. cycling since ten months from new zealand back home.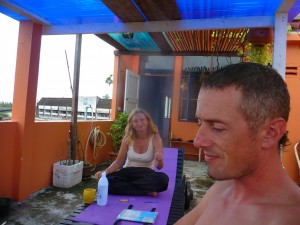 we are taking a similar route just in opposite directions. i got loads of tips from them and hope i could provide them with some tips in return. ben is a bicycle mechanic and he was so kind to check my wheels and gave me green lights until australia. wonderful people, i really enjoyed meeting them…
i stayed a couple of days to do some repairs and some shopping. my bicycle bags showed some wear after a year. i could fix some of the minor damages myself…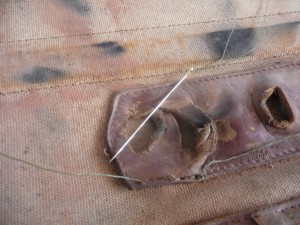 but that didn't work elsewhere. luckily i found a leather shop which also does repairs. a competent lady took a look at the bag, said '100 baht' and 'tomorrow afternoon' and i had the feeling of leaving the bag in good hands. some new clothes are in my possession now as well… and a new hat.
after the almost mandatory 'extra day' and a last evening at the night market we left the next morning.