after searching the internet and asking around in vientiane it seemed impossible to get a boat downstream towards the south of laos. maybe i get another chance in cambodia to travel on rather than along the mekong.
the day after the match between serbia and germany i was back on my bike and the route 13 going south. after the beautiful but hilly north this route has one advantage: it is mostly flat. over some hundred kilometers this also gets boring. sometimes the mekong is within sight,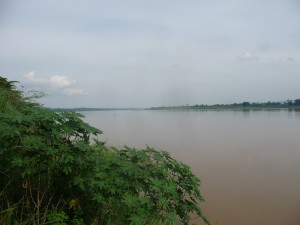 and some old construction vehicles decorate the side of the road with a small garden growing out of them.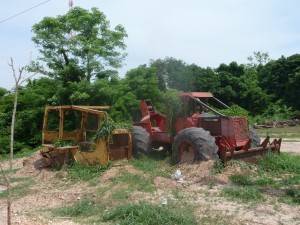 another diversion came in form of a fellow traveller. jules from canada changed from ordinary backpacking to the back of a motorbike and is touring through vietnam and laos.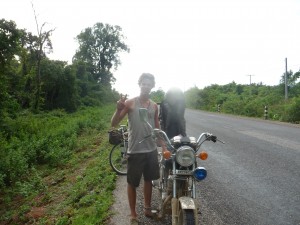 after two weeks of almost no rain we got caught soon after we chatted on the side of the road and ended up seeking shelter in the same guesthouse. it was only three kilometers away but if it rains heavily it is enough to get you soaked in no time. but with the prospect of a shower and dry clothes it was rather amusing.