as soon as i left the main road i ended up with a dirt road which leads towards the bolaven plateau and its waterfalls. i ended up in tad lo. a place with only a handful of guesthouses and a laid-back atmosphere that embraces you.
the guesthouse had a wonderful garden and when it rained we had a stream of water running through it with our own small waterfall just in front of the huts.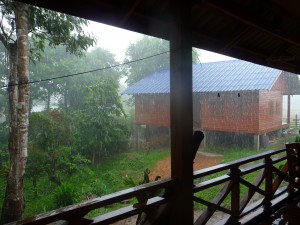 in tad lo i met mark, a fellow cyclist from the netherlands, and together we went to the top of one of the waterfalls. there was hardly any water at that time but the pools were inviting to dip in the feet.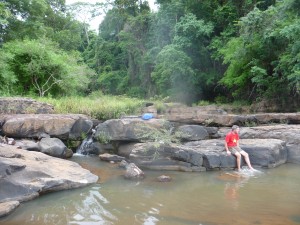 not far from the guesthouse after a little walk through the forest was another waterfall. jumping from stone to stone you can make it to the middle of the cliff and lay in the sun with the water rushing down not 5 meters away and dragonflies dancing above your head.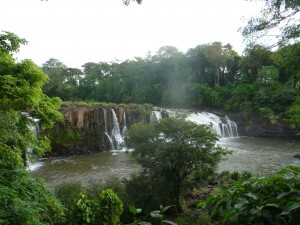 on our last evening we made dinner at our guesthouse. we learned how to make spring rolls and had tons of fried potatoes to it. then again it wasn't the last evening and i stayed another day…