we stayed at a wonderful hotel, an old restored mansion.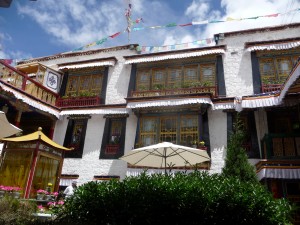 with a good restaurant and wonderful people to share the food with. lucia trying to lend raphael some of her hair.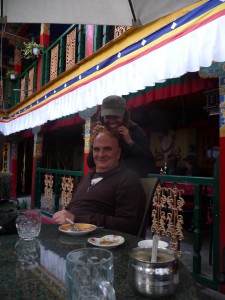 …and a roof terrace to read a book or to simply spend some time away from the group…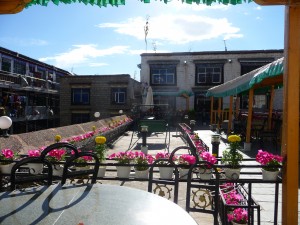 because there were some troubles involved in our tour. here are a some of them:
as i told before we had to pay for the first night ourselves and now we were confronted with the news that our train to chengdu was going a day later and that we were supposed to pay again for the last night. as it was considerable more money than the first night, heavy arguing started first in the hotel and later on the phone with the manager from the tibetan travel agency. it went as far as digging up the adress which the manager was not willing to give out and pay him a visit to settle things once and for all. it didn't come this far when our guide interfered and promised us accommodation and transport to the train station. in the end we didn't get breakfast as promised but the rooms and transport were provided. that we feared for some time we wouldn't get any train tickets at all is another story.
one person of our group caused the police to come to the hotel to question him and his girlfriend and to later take them to the police station for an official statement. he couldn't resist the temptation to wear a t-shirt that showed just that little bit of love too much for tibet as far as the chinese authorities are concerned. especially while visiting the potala palace and showing it to our guide put the latter in a rather awkward position. after first rumors circled that our guide might lose his job or even be deported from and forbidden re-entrance to tibet, everything cooled down and as far as i know no one lost his job or got deported.
one lady from australia was hospitalized one morning with symptoms of altitude sickness. as always the lack of communication from our guides left us in a state of cluelessness. just after one of the younger guides and a couple from south africa paid her a visit at the hospital the situation became clearer. two days later she was released.
as some of us were returning to the hotel from the laundry service one member of our group was leaving the hotel and rushing past us without greeting. the guy from south korea didn't speak any english and so no one could say for sure what caused his departure. something in the hotel must have upset him that much that he rather went looking for another hotel than staying one more night. the next morning at breakfast he was present again. it seemed the collective staff and management of the hotel which came running after him was succesful in pursuing him and giving them a chance to make up for whatever upset him in the first place.
it kept the gossip machine at work and it made the tour become special. haha. we could have done without guessing around why people from our group kept disappearing just to find them in the arms of the police or in hospital.