i love boats. it is a nice change from being on the road but somehow it has the same feel to it. the speed, the wind on your face and a lot of time to think about your destination before you reach it.
we left chennai with 4 hours delay, but if you're traveling for three days it doesn't matter that much.
the only entertainment on board was an empty swimming pool so we had to come up with our own ways to kill the time. we played cards, cards and again cards. some books helped, the daily lunch and dinner hours and sleeping were the daily routine.
seemingly endless water,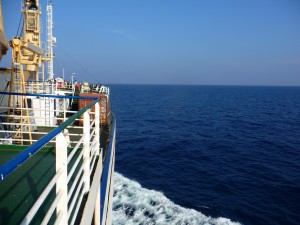 sometimes with dolphins, sea turtles and some even spotted whales.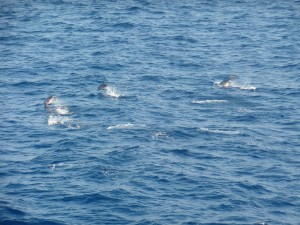 on the last night on the ship we went to the very front of the boat. no-one except the crew was allowed there. but as it was totally dark, which made it easier to hide but on the other hand more difficult not to stumble over some ropes or poles hidden in the dark of the night, we reached the bow unnoticed. we ate a pineapple and watched the stars. it was surprisingly silent. no sounds of engines just of the boat cutting through the gulf of bengal.