sometimes the road was blocked by herds of cows…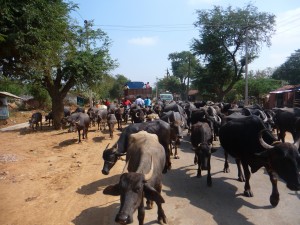 or as soon as we stopped by village people, screaming boys and girls or schoolchildren on their bicycles…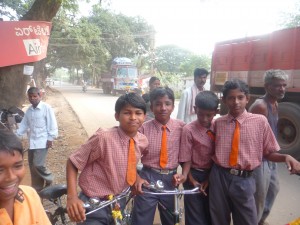 we reached haveri and found a guest house where after some discussion we were allowed to get our bicycles up in our room instead of leaving them over night in front of the house. the ramp leading to the rooms made it much easier to persuade the receptionist…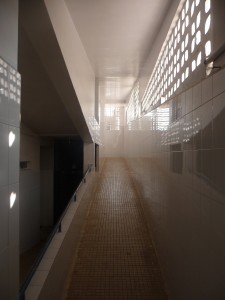 the most beautiful guest house we found in hadagali. it was the only one in town and nothing here seemed touched by tourism. we had dinner in one of the two restaurants in town, and though it looked more like a plastic version of an ice-cream parlor the food was delicious.
we walked there during a power cut. in all the stores and houses only candles shed a little light and it was a surreal feeling like walking through a time long past.
the next day we took on the last kilometers to hampi,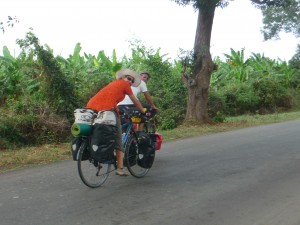 saw the first elephant along the road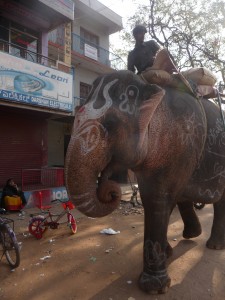 and reached hospet, the next bigger city to hampi. it was a difficult ride because of the many trucks which came in endless streams from the mines from the surrounding area. but therefor the last 10 km to hampi were beautiful and again lead through rice fields lined with palm trees and the rocky landscape hampi is famous for as background.
to get to our guesthouse we had to cross a river on a small boat but managed to get ourselves and the bikes safely to the other side.