…is a town 30 km from the iranian border.  murats camping, just below ishak pasha palace, is a meeting place for traveling people and a nice place to take a breath before entering iran. there i met anja & chris.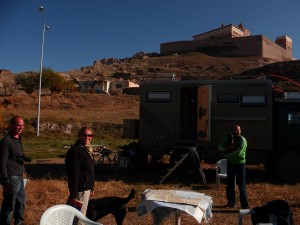 they are on a one year cruise with their newly build up truck. you find information about their travels here. they have a small library in their vehicle and again i was able to trade my book which i finished the day before. thank you, the book has already found a new owner and is traveling to austria. oh and i would have totally forgotten to take enough cash with me to iran without them. chris and i went to town on their motorcycle and now i have enough dollars with me to make it through iran despite my almost useless visa card. appreciated!
the guy with the camera on the left is till. he and amelie are traveling overland to india also by truck. they were thinking about bringing a guitar as well but thought it will take up too much space. haha! you can have a look at their wonderful truck here.