the first miles of greece looked a bit unreal. few people live close to the border and there is just one big road with little but forest to both sides. i stayed the night somewhere in those mountains and felt more between two countries and the sound of a trumpet of the bugle call of a nearby military camp didn't help to shale off that feeling.
i first felt like i was in greece when i entered the suburbs of ioannina. i was asking for fuel for my stove in a hardware store. since the guy didn't understand what i want he dragged me into a cafe next door.
the woman understood what i wanted but it turned out that she is from warsaw, poland, and was unable to translate into greek.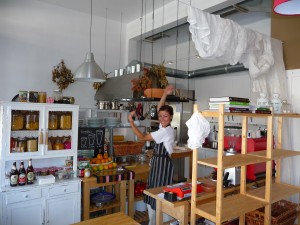 she moved here together with her husband from athens and opened up these restaurant with homemade food, a mixture of polish and regional recipes. maybe if she is reading this she can add her name and the location of this place
well i didn't get the fuel but i had a wonderful conversation and got some valuable suggestions which parts to visit in greece. so this is me writing from igoumenitsa on my way to lefkada island after a day of wonderful cycling through the mountains north of paramythia