Arriving again in time for the sunday ciclopaseo, i saw some now familiar faces from last week's ride, like this daughter-father duo. The girl had an incredible voice which was a real surprise when hearing it first from the a distance and seeing the person it belongs to later.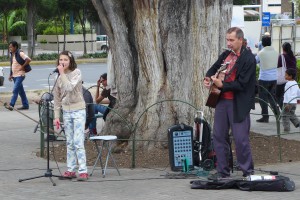 Just next to the el ejido park is the "casa de la cultura", a big venue with all sorts of cultural events. This day with a group of indigenous from the Cotopaxi province, my next destination.
Last time i only saw a marching band making advertisement for the street "la ronda", this time i had time to visit it…
On my way to the urban park omandá. Kind of like a park in a building, with exhibitions, playgrounds, swimming pools and a roof terrace.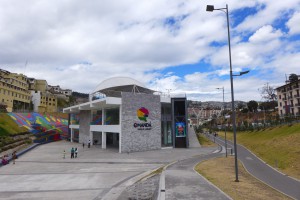 For some smoother climbing i changed the chainrings and while looking for a bikeshop to service the hubs, i met carlos at "construbici" and he let me use his workshop instead.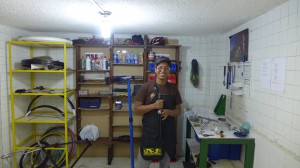 He once ran a "casa de ciclistas", but as he is now the father of two, he only runs the open workshops next to his bikeshop, but with plans to host cyclists again when his kids are older.
Like Tempelhof in berlin, the old airport in the northern part of quite is now open to the public as a park.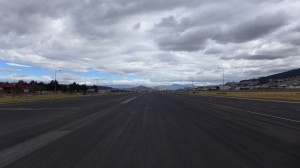 I went there with emilio, whom i met on the boat from Panama to Colombia. On that afternoon was an earthquake in the north of Quito which we didn't feel while riding our bikes and just heard about afterwards.
There are quite a few vegetarian restaurants which offer set lunch specials.
I inquired about the train out of town to the south. But as it nowadays is solely a tourist train and you have to pay both ways, which adds up to 36 dollars, i took the cyclepaths as far as they went and took smaller streets until the end of the city. From there it is only some more kilometers on the panamericana until the turn-off to the Cotopaxi national park.