Like in Quito, i stayed at 'el cafecito' hostal, which has a relaxed atmosphere, superb breakfast and came this time with a glass covered court yard complete with bicycle themed art on the walls.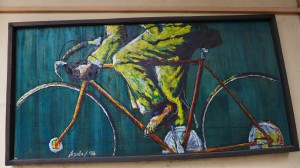 After the Chimborazo round, the first days were spent solely relaxing until new arrivals were luring me out to see something of the city.
The new catedral by german born architect Juan Bautista Stiehle is one of the most famous buildings of Cuenca, despite its shortened towers. Due to a calculation error, the foundations wouldn't have been able to hold the weight of the tower's original design.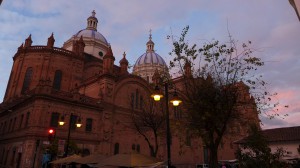 Especially at night a nice sight: the illuminated Santo Domingo Church, which we visited during mass.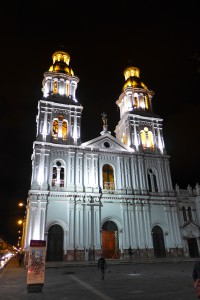 On the way back to the hostal, we watched a while as these guys were doing capoeira on the square just next to the hostel. Especially the kid was on fire.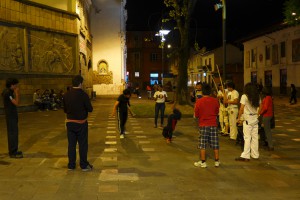 The next day we made a trip to "las cajas". It took a while to get the right bus out of town but around noon we finally started our little walk. With me were Maria and Judith, two musicians from Germany who were volunteering around Guayaquil with 'musicians without borders'. So music was the main topic while wandering about, from Wagner to musical education.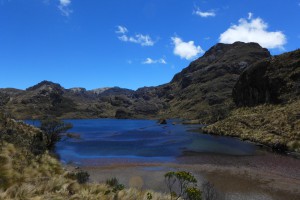 A nice diversion was this enchanted looking forest where the girls mingled with the trees.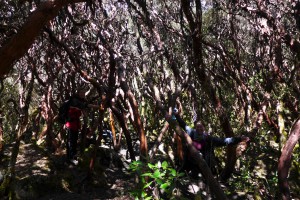 Our break we made at another laguna, sheltered from the wind and with nice views of the reflections of the clouds in the water.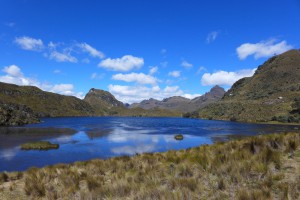 We also visited the panama hat museum and factory. Ecuador being the original producing country and probably just the way of import to north america over Panama led to the name. After some relaxing days and good company it was time to start towards Loja.