Starting into a rainy morning, the asphalt soon gave way to rocky gravel and though not very steep, the climb left little time to catch one's breath.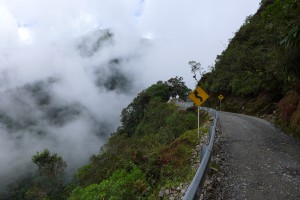 The road is still considered dangerous and was named "el trampolín de la muerte". But this was before these crash barriers were put in place. The weather was getting better around midday and allowed for some views of the valley,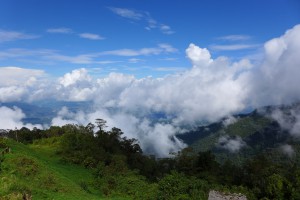 as well as part of the road that leads up to the mirador.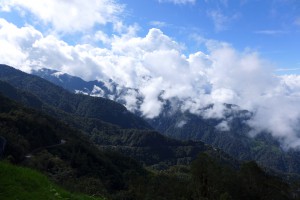 Coffee and some arepas were on the menu, which helped to get through that last little climb from the mirador over the first pass. The owner who prepared these refreshments recommended a place for the night not far downhill from the pass, as it was difficult to find a camping spot besides a road that offers only sheer rock walls on one side and an abyss on the other. Like in other places in Colombia, the people are friendly, curious and eager to learn about the equipment or going for a test ride on a loaded touring bike.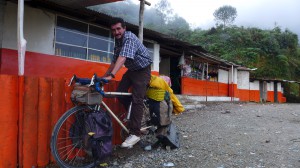 Since they were out on vegetarian fare, i cooked my own meal and once more the stove was the center of attention for a while. The next morning continued with a downhill before another dirt road climb and descent brought me into the valley of Sibundoy, with more paved road and civilaziation than i had expected to find along this route. I trundled along from village to village and somehow missed to find me a place to stay and soon was in the middle of another heavy climb, first on pavement, then again on gravel and the night slowly rolled in. The best spot to camp i could find was a swampy field, but it fulfilled its purpose and the next morning saw my legs decorated with a little more mud than usual. Towards the top, the pavement reappeared for a last time and i could get a view of the road, that seemed like a river winding its way down into the valley. After that, the paramo took over with its unique vegetation and typical misty weather before i was spit out on the other side to better conditions at the "Lugana la cocha". From there the last climb started before reaching Pasto after two and a half days of cycling. The next day was suprisingly hilly as well until i reached Ipiales, where i spent a nice night at the Hotel Belmont and had just a small distance ahead of me to get to the border with Ecuador. Waiting in the line to get my passport stamped i met Chris, who was into his last two weeks of cycling together with Carolina from Medellin.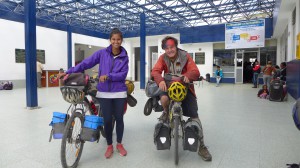 During the last days towards the border i almost felt reluctant to leave Colombia. But by then i had luckily received a lot of recommendations for Ecuador from friends and other travellers, which made the goodbye easier.