It was quiet a hilly introduction to Panama and i was camping somewhere on top of these hills between Changuinola and Almirante before taking a boat towards "Bocas del toro" on the island of Colon the next day. There were dark clouds over the island and once we arrived, it had started to rain heavily. I put on the raingear for a short distance to a hostal that offered camping and spent three days mostly lying in the hammock and reading. The hostel had a nice wooden tower with view of the ocean and a nice breeze coming through that was missing five meters below. Refreshed, i continued over the hills between the caribbean side and pacific coast through the "Reserva forestal de fortuna". The downhill after a night spent camping in the hills was fantastic and i was in such a good mood that i took a wrong turn and was just too lazy to stop and ask for directions as i slowly made my way towards Boquete, which is rather the opposite direction that i wanted to take. But the road was inviting and sometimes you just want to get lost. Just before nightfall a guy in a car stopped and offered a place to crash at his finca. Once he toured Europe on a bike himself before he was sent to Panama with a job and settled there. Growing up in Germany, he still knew a little german, and so we communicated in a mix of german and english mostly, with the odd spanish word thrown in. I was thinking i would be offered a patch of gras to pitch my tent, but in the end found myself in a guesthouse complete with swimming pool, which was just heavenly after a long day in the saddle.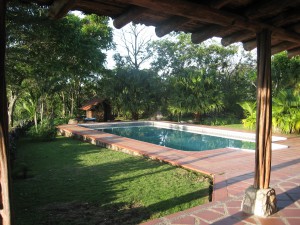 Retracing my steps the next morning, i soon found myself on the panamericana. There are hardly alternatives towards Panama City if one wants to make progress. For the most part it was rather dull but as i still wasn't sure how i wanted to get to South America, this gave me some time to think this over. Spending a rest day at Santa Clara beach my camera was stolen. Just returning from the internet café, i forgot to put it in my tent and left it outside. To make things worse, i had just put my sd cards with all the fotos in the camera bag before i left the café. A thing i did for the first time during this trip. Bad timing. I met an argentinan couple who stayed with some fishermen next door, and we had a delicious dinner made in the kitchen shack directly at the beach. I had already encountered the marañon fruit in Guatemala which consists of two parts. The cashew apple and the nut. As we met again for breakfast the kitchen was shrouded in smoke as the two were roasting cashew nuts they had collected the day before. One has just to get rid of the charred shell and is presented with this most delicious nut.
I did not cycle into Panama City and just took the Amador causeway after the "Bridge of the Americas" to enjoy a view from afar. This causeway was erected in between islands with the construction waste of the Panama Canal. There are a couple of las vegas style hotels which are closed and slowly falling apart and today the causeway is mainly used by cyclist to go for a spin close to the city. Stopping for a coffee, i had a great view over the skyline. Cycling back, i left the city to my right and followed more or less the Panama canal railway towards the San Pedro locks and was watching a freighter making its way slowly through them. The road continued to the national park Soberania where i found shelter from heavy rain at the park entrance. The weather wasn't inviting to explore the area although the scenery looked amazing. At least i got a glimpse of the park on a wonderful road through the densest rainforest i have seen so far. Plants seemed to be growing out of each other, the trees were ladden with other plants and there was hardly any sun reaching the floor, which seemed to be a never-drying mix of fertile earth, decaying wood and leafs. I reached Portobelo the next day for lunch before making my way to Puerto Lindo, from where the boat would be laeving to Cartagena in Colombia. By then i had decided to go with a sailing ship through the San Blas Islands. which is a bit more expensive, but with food included, no charge for the bicycle and some days in these carribean islands seemed to be a good way to get to South America. In Puerto Lindo i visited Sandra and Bert whom i had met at the spanish school in Xela and who are now proud owners of the Bambu Guesthouse. It was a warm welcome and later they invited me to stay in one of the rooms. The terrace and bar have a beautiful view over the bay and their garden bordering the forest made for welcome visitors such as tucans, hummingbirds and different types of monkeys.