we camped at another freedom camping spot in fortrose before cycling through the caitlins. we stopped at curio bay to have a look at the petrified forest and saw some yellow-eyed penguins sunbathing.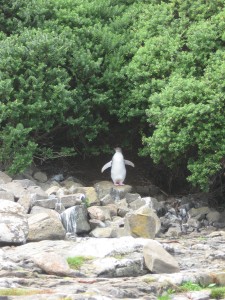 the south island has a lot of scenic places but didn't score with beaches so far. but the caitlins have that as well like here at tautuku bay.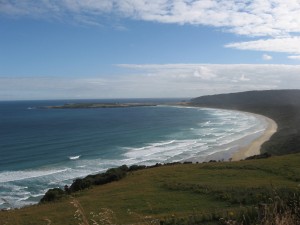 we ended our day at papatowai. several times we got the recommendation to stop at the lost gypsy. a tinkerer who's living in his green bus putting together little machines which can be wind by hand and make all sorts of funny moves or noises. here the bicycle related item in the front yard.
the next day we visited the purakaunui falls, which need a little bit of rain to look pretty, and cycled past the caitlins lake to owaka and then out to nugget point before stopping at the kaka point campsite for the night. the next day we had a long stretch on the highway one from balclutha to lake waihola and it was about time then to turn off to taieri mouth and continue on the less frequented coastal route until we reached dunedin after a very long day of cycling.