the hostel has a wonderful atmosphere. more like a small village with enough quiet corners to read a book or pick up the guitar. the football field was used for that if there was no game on and the swimming pool was perfect to take a dip afterwards and during the hot days that followed.
as it turned out the picking season hadn't started, but the town was already packed with people looking for work. and still every day new people arrived from the east coast to escape the floods that hit queensland. for most jobs one has to register with one of the agencies. which was simply putting down your name in a list and waiting for a call. it was difficult to figure out how this jobs were given out and in which way one could increase the chances of "getting in". luckily the bicycles from the hostel were in bad condition and they needed someone to fix them. so i spend the first weeks repairing those bikes for free accommodation and didn't have to worry about the agencies for some time.
one morning i went down to town as an 'extra' as a possible replacement for people who don't show up for work. 50 other people were waiting with me and i was only lucky that i was standing in the way of a supervisor as he was calling for two 'extras' to join his team. against his will six more people were appointed to his team which meant the money to be earned is divided by more people. the pick itself was rather chaotic. after 10 minutes the instructions were thrown over board and everyone picked randomly by themselves and there were even some fighting over grapes. my third cut missed the bunch of grapes i was aiming at and rather cut my fingertip in half. damn, i didn't want to have a medical break after two minutes, so i just ripped off some part of my socks and wrapped it around my bleeding finger. after 2 hours the pick was over. the needed tonnage was reached and we went home. a bad start but from then it only got better. we found work without the agencies on smaller vineyards. the work was better paid, better organized and without any fights over grapes.
the hostel was a ten minute walk away from town and as most people didn't want to spend their money in the pub, there was always a crowd to spend a good evening around the place. here are sylvan and kirsty with their piece on 'balanced drinking'.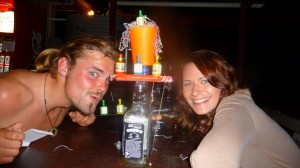 some people staying in the hostel had a car and so we explored the area around magaret river. one trip took us down to augusta and cape leeuwin where the southern and the indian ocean meet. rather difficult to recognize without the sign.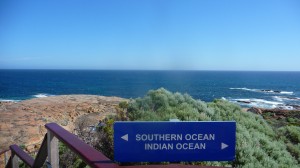 as there was enough irish blood around the hostel, st. patrick's day called for a celebration. most people got their hair or any other part from their body which they left unattended painted green.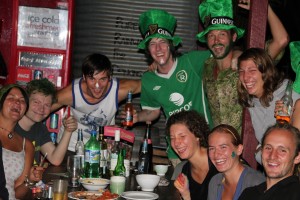 and if there was nothing else going on, what else to do than spending the day at one of the beaches…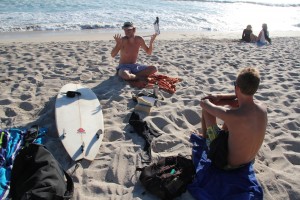 i was never planning for more than a week. depending on how much work was available. after it was difficult to find work in the beginning and people were rushing after any offer they could find, now it seemed to run the other way and people showed up at the hostel looking for workers. we did picking, netting, fruit dropping or just racing around the vineyard on a golf cart like vehicle pretending to be busy. which left me with little time and energy for recording but brought finally some income for the adventures to come.