the next day we went down the sianok canyon that we looked upon from the panorama spot the day before. it is amazing how close to the city the life of the village there is seemingly unaffected.
after leaving the village and making some warm up moves at a volleyball net, we quickly found other players from the local school.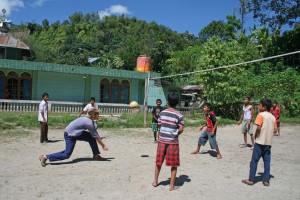 one of the students was first following us like a stray dog, but after he shook off his nervousness, he switched to being our guide.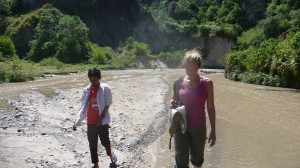 we had to cross the river and as it was so nice to walk in the shallow water, we strolled along.
we ended up at some village up the mountain and went looking for a place to get lunch. we found a stall offering gado gado, the indonesian version of salad with a delicious peanut sauce. most food is quite spicy and in most restaurants you will find sambal, a chili paste which tastes good with almost everything. we enjoyed some bakwan with it, one out of many deep-fried items to get on the streets. on our way we had already seen where the chili for the sambal comes from.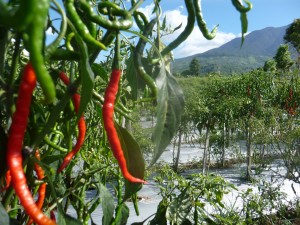 it feels a bit like in the alps, or at least as close as it gets on sumatra. the climate is a lot cooler on 1000 meters above sea level and the scenery with the surrounding mountains and local villages is perfect for a walk.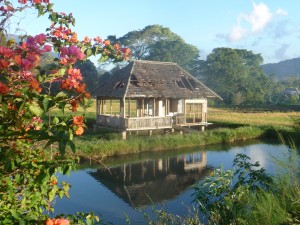 on our way back we stopped at a bridge over the river to watch the nightly fly from the fruit bats along the canyon. it starts with a single one until it is a constant stream of thousands flying past the darkening sky.
just after the bridge we received a friendly smile quickly followed by an invitation to the house of  a local family which pampered us with tea and bananas. despite the language barrier we entertained ourselves for a half an hour without too much difficulties.