i stayed in strung treng for two days. after the relaxing week on the 4000 islands i was in no condition to get back to normal cycling life immeadiately. i fell asleep before the match between germany and uruguay but was awake for the final. the extra days gave me time to plan my further route. the mekong discovery trail is yet to be developed but there is some useful information on the homepage if you plan to travel along the mekong rather and than on the highway.
mostly a dirt road along the river…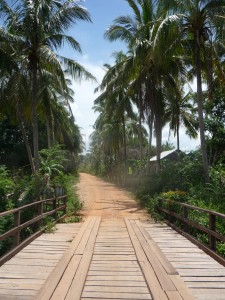 it also invites you to hop on the islands. i stayed at a home-stay in koh khnhaer before crossing the mekong the next morning to one of the island where there was supposed to be a road leading south and from there another boat back to the mainland. so far so good. the people from the village organized the boat, we had some problem locating the road but found a local fisher who agreed to take me there.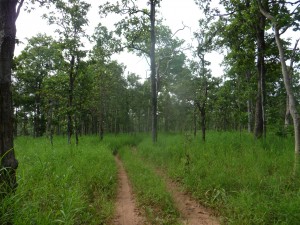 the road was just two lanes of sand and soon i found myself sliding and cursing towards what i thought should be south. when we got to the road i was instructed to just follow it but soon the road was overgrown and splitting which made it hard to keep track. after 4 hours i thought i must be close and found someone to get me back to the other side. by then i was really exhausted and had run out of water so i asked where i could get some. following the directions i ended up at a restaurant where i was invited for tea when one of the people gathered there was greeting me. when i recognized him my first thought was "hey old man what are you doing here?". he was the father of the guy who showed me around the village last night. it didn't take long then to realize that i ended up just 200 meters away from the place from where i started this morning. aargh!
well, back to the main road, lunch, forgetting the morning and onward!