it was a pleasant suprise with how little difficulties the bicycle was checked in at the port after what i've heard from ove and his trouble with his motorcycle. they didn't even charge an extra. once on board i settled myself on one of the benches to go to sleep. which was more difficult than i thought. there was some miscount in the passenger's list and it took about 2 hours and lots of shouting to get it solved…or being considered not too important after all. then it was time for a late dinner which was plain bread for me. chicken, mouldy cheese and overchilled lemonade was the rest of the menue. it was quite funny to see half of the passengers trying to get some liquid out og their bottle by sucking on it like crazy or to melt the ice block inside.
the next morning i took a walk on deck in the morning light and was soon invited to play a concert. after 2 songs and a little chat with the audience i was called for greater glory. i was being approached by one of the crew members and asked to play in the saloon. hihihi, saloon…
after i was done playing, a guy from the baluchestan province grabbed the guitar in a rather odd fashion and sang a traditional from this region. very nice sounds!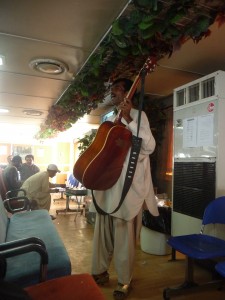 when we arrived in sharjah i could take my bicycle straight from the ferry and without much trouble got my stamp from the bureau of immigration. welcome to the united arabian emirates!