i just got til aeropolis. then i decided to change course because i didn't want to see any more construction sites of retro replica stone houses. it looked like clones where spreading in the area. but there was also the nice fishing village of trachila.
i missed a turn-off and ended up in this village where just a small road is leading to.
i left the coast and traveled to gythio where i found a surreal place. an old bungalow village with panaroma restaurant abandoned some years ago and left just like it was.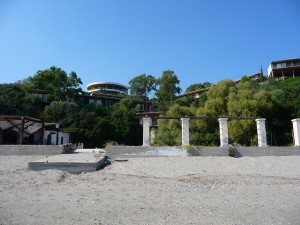 i had the whole beach for myself and was strumming the guitar 'til after dark…