hey, i just arrived in florence and had a wonderful ride today. but first some words on the trip so far.
i had a wonderful time at lake constanze where christoph – a friend since school – and i stayed in his former flat with his former flatmates. most of the time we talked about what we could do but decided not to instead. so the days flew by with "hanging out", sailing, eating water melon and yes… hanging out.
i stayed a day longer after i forgot something in the flat. so i enjoyed the hospitality once more. we had a wonderful evening with pizza, friends came over, i had a wonderful audience for some songs and we did't run out of wine.
the next day i followed the cycle path around the lake until i almost reached austria and then headed south to feldkirch. as i wanted to cross the alps over the reschenpass i first had to come across the arlberg.
somewhere in the middle of the ascent i met a family from france which holidays where prolonged due of a broken car.
so i played a song for them and sold my first cd outside of germany.
in landeck i joined the via claudia augusta and followed this path til i reached the lago di garda. the lake i so crowded and every little space is used up for campingsites, i decided to check in to one to avoid a long and fruitless search for a place where i could have put up my tent for free. turned out to be a great idea. i ran into a group of from innsbruck which where there to celebrate the birthday of a friend.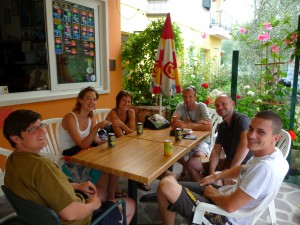 after they went out for lunch and i had put up my tent we packed for the night and went down to the water. after some fun & games with the birthday girl, we rolled through the night with wine and ended up skinny dipping. and at least by then nobody seemed to care that it ain't the sea we spent the night with.
thank you for a wonderful evening! prost,
matthias